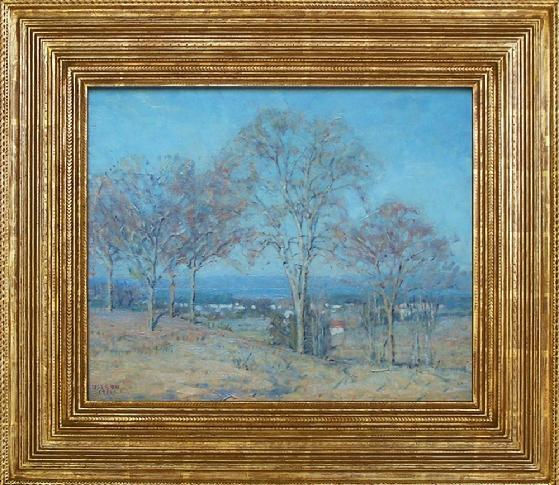 Ernest Bruce Nelson "Monterey Village" 1913 -- 16 x 20 inches, Oil on canvas. Available
E. Bruce Nelson
Ernest Bruce Nelson Biography:
Ernest (E.) Bruce Nelson was born on June 13, 1888 in Santa Clara, California. He studied at Stanford University under Robert B. Harshe, the Art Students' League of New York, and at the Woodstock Summer School (ASL) under John F. Carlson and Birge Harrison. He maintained studio locations and residences at Palo Alto, San Jose and Pacific Grove, California.

In 1912 he exhibited twenty paintings at the galleries of Helgesen & Marshall in San Francisco, and later in November 1914 he exhibited twenty-four more paintings with the same gallery. He exhibited in Los Angeles in May, 1914, and at the Oakland Art Gallery in 1916 and with the San Francisco Art Association.

In 1914, Anthony Anderson, art critic for the "Los Angeles Times" newspaper, described Nelson's works as, "lively and delicate, full of light and air, of brooding sunshine and permeating mists". Bruce Nelson painted coastal seascapes, coastal valleys, and coastal villages. The location of many of Bruce Nelson's paintings are unknown. Latter in his career, it has been discovered, Bruce Nelson had lived and painted in New York. Bruce Nelson died and was buried in New York in 1971.

Bruce Nelson held a membership at the San Francisco Art Association, and he won the Silver Medal at the Panama-Pacific International Exposition in 1915 and the Honorable Mention at the Woodstock Summer School in New York, 1911.


Lawrence Beebe Fine Art
Telephone: 949-981-0070 Email: Info@LawrenceBeebe.com
P. O. Box 10814, Palm Desert, California 92255-0814
Copyright 2006 All rights reserved